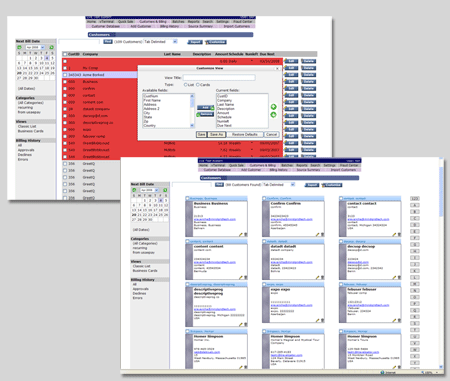 Left: List View with Customization Window. Right: Business Card View.

Features of the Interface
There are many features to the Customer Billing Database and from the smallest to the largest, they all make up the easy-to-use yet advanced interface:
Multiple Payment Methods for Customers
Customizable Views with "Save Your Own" Views
Easy Search & Sort
Customer Categories
Calendar with Billing Reminders
Detailed Billing History
Bulk Edit or Import Customers
and more...

API Accessible
USA ePay understands that not every company is looking to use our console to control their customer's billing information, and this is why all the functions of the Customer Billing Database can be accessed from the API. Merchants can still store their customers and their customers' sensitive billing information in the database, but can edit, delete, charge or add customers into the database from outside the USA ePay console and perform all of these functions in their own program or interface.