Safe, Reliable and Secure ...
Since every single payment form is hosted on the USA ePay secure servers, each one is automatically secured by the SSL certificates on these servers. The form also supports another layer of security with an MD5 encrypted hash that prevents vandals from misusing your merchant's form on a different website.

Along with the basic site encryption, the forms collect all the credit card data; not the merchant. Since the USA ePay forms collect the data, and they are hosted on the USA ePay servers, they automatically fall under USA ePay's PCI DSS compliance. The servers are also reliable in up-time so merchants don't have to worry about their payment form ever being down and unavailable.
---

Customize It Your Way ...
The ePayment form can be fully customized by the merchant to look just like their website. The form can be edited through an easy user interface that allows the merchant to choose things like colors, wording and simple functionality, or the form can be edited through an advanced HTML editor allowing the merchant to edit ANY part of the form professionally.

The form can also be told to react differently in different transaction scenarios. It can be told to post data to a database when the transaction is complete or it can send the merchant to a simple Thank You or Decline page. The ePayment form can do so many things and can be programmed and customized in so many ways that we at USA ePay consider it its own API.

Below is an example of how the payment form can be customized slightly. To the left is the original payment form as it appears without any customizations and to the right is a customized payment form with color change, table changes, background modifications and more. These were done to the form so it looks like the site that it links from.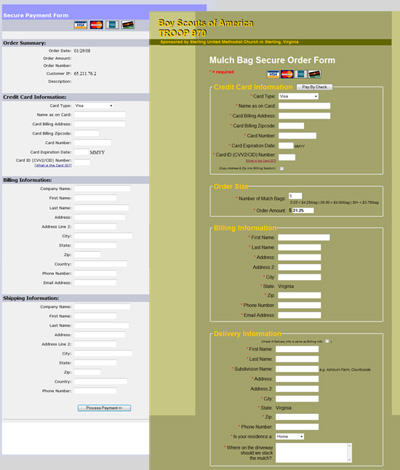 Left: Original Form. Right: Customized Form.

Multi-Use Form
There are many types of merchants and different types of cases that the Payment form can be used for. In addition to the general form to collect simple online payments, the following merchant needs can be met with this form:
Auction Payments
Hosting Customer Sign-Up [with recurring billing]
Donation Forms
1-item Product Websites
Home Owner Association Payments
Utility Company Payments
Shopping Cart Checkout Page [PCI DSS compliant]
and more...

Split Payments
The transaction API and ePayment form can process multiple payments to multiple merchants or source keys in a single call. This is useful in cases where a base sale is processed by the merchant and a separate handling fee is processed by another merchant. For example, a concert where the ticket price is $25 dollars, collected by the concert venue, plus a $2 handling fee that is collected by the servicing company. The venue and the servicing company have two separate merchant accounts and two separate source keys. Documentation for split payments can be found in the Transaction API.

---

Documentation
| | |
| --- | --- |
| | All the documentation and example-code for the ePayment form is readily available online for free to all merchants and developers. Our online Wiki-Knowledge Base has it fully documented here. |
---

More Information ...
Need more information about the ePayment Form or ready to start using it? Feel free to contact one of our trusted resellers or contact us if you're a merchant service bank or provider to become a reseller of this product and offer it to your merchants.


vTerminal Flash Demo


Sit Back and Watch
the flash demo of the Merchant Console vTerminal

»

---

Guides & Manuals


Help and Documentation
on all of the available USA ePay products; free to download

»

---

Images & Logos


For Press and Websites
USA ePay logos and images can be downloaded directly

»